Tyler Lewis News
Wynsors World Of Shoes Launched
2007-04-03
Tyler Lewis are proud to announce the launch of the Wynsors World of Shoes eCommerce web site. The site has gone live on time and to budget, to coincide with a national TV advertising campaign.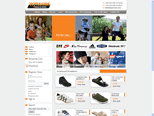 Wynsors World Of Shoes are a discount shoe retailer with large retail outlets across the North West of the UK.
The project required the eCommerce system to integrate with the Wynsors Warehouse Management System to ensure that stocks were kept up to date and to ensure that items orders online would be picked and despatched almost immediately by Wynsors staff.
We were assisted on this project by our graphic design partner Zumm Creative.
Vacancies
Are you a talented local web developer looking to test your knowledge of PHP, mySQL, HTML and CSS in a commercial environment? If so see our web developer vacancies and get in touch, you could be the very person we are looking to add to our team..

Keep up-to-date with our RSS News Feed