Tyler Lewis News
Cotton Thompson Cole Website Launched
2007-11-20
The new Cotton Thompson Cole web site was launched on 20/10/2007.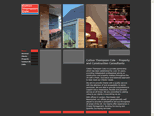 The site is built using Version 4 of our web based Content Management System - COREZE. As such the site is search engine friendly and marketable and we are looking to promote the site via the search engines maitaining our proven track record of delivering sites that really do attract more visitors and prove to be a fantastic return on investment.
If you are interested in learning more about our web based content management solutions or our fresh and approach to search engine optimisation please get in touch - we'd love to hear from you!
Vacancies
Are you a talented local web developer looking to test your knowledge of PHP, mySQL, HTML and CSS in a commercial environment? If so see our web developer vacancies and get in touch, you could be the very person we are looking to add to our team..

Keep up-to-date with our RSS News Feed